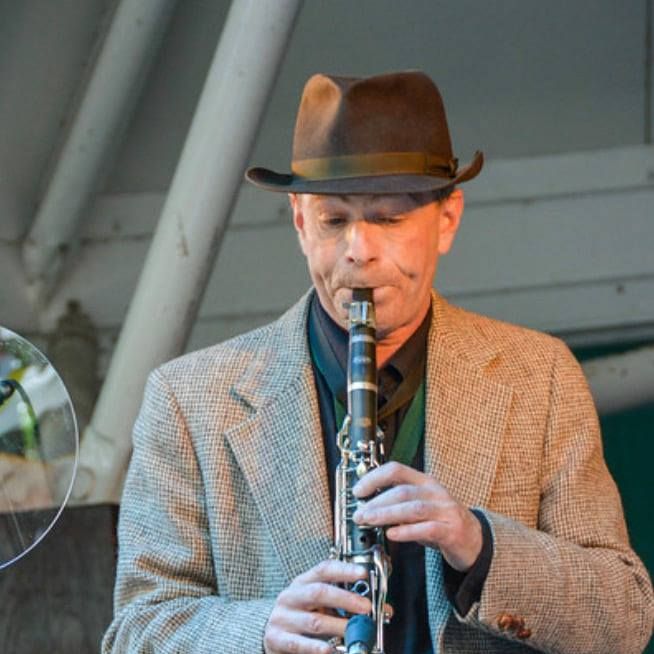 Dave
Clarinet & Saxophone
Belfast man Dave McKeown on clarinet and saxophone is equally at home playing folk, jazz, klezmer and classical music. His interest in Balkan music was sparked by gate-crashing a wedding in Macedonia in 1983, and later on, a holiday in communist Albania. He combines performance with teaching, composing and arranging and has shared stages from Glastonbury to Edinburgh with everyone from Humphrey Lyttleton to John Otway. Past bands include the Joyce Gang and Ellingtonia, while currently, in addition to Hazaar, Dave performs with La Vie en Rose and Lightgarden.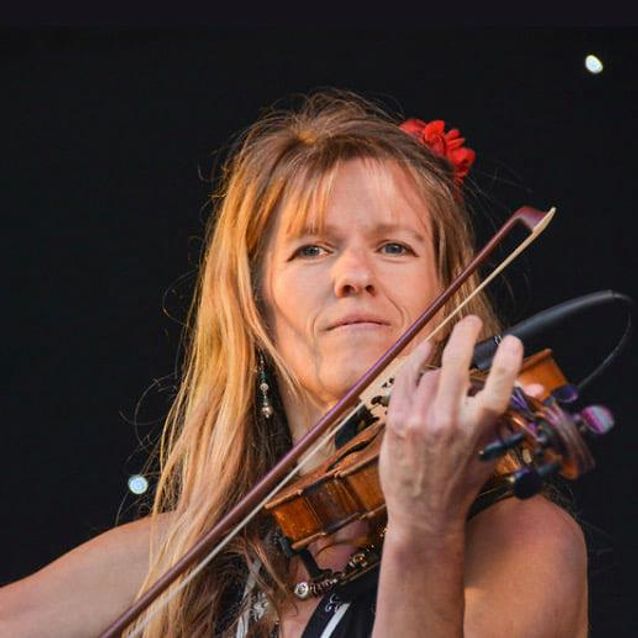 Lisa
Violin, Accordion, Vocals.
Lisa has been immersed in East European and Balkan music for over 25 years. Her love of this music began with hearing Hungarian singer Marta Sebastyen and Muzsikas, some of whose tunes she learned and took out busking onto the streets of Bath. Later, whilst living in London, she joined a group of fiddlers dedicated to learning Klezmer music; after returning to her home county of Devon she joined a Klezmer street band and dedicated herself to learning the repertoire. After meeting Aquara and Jamie, she joined Hazaar at the outset, and hasn't looked back!
Lisa lived in Greece for a time during the 90's – her time there has left her with a passion for all things Greek, including the wonderful music, dance and song. Next project is to take her violin to Thessalonika, home to many fabulous musicians from Greece, Macedonia, Bulgaria and Turkey.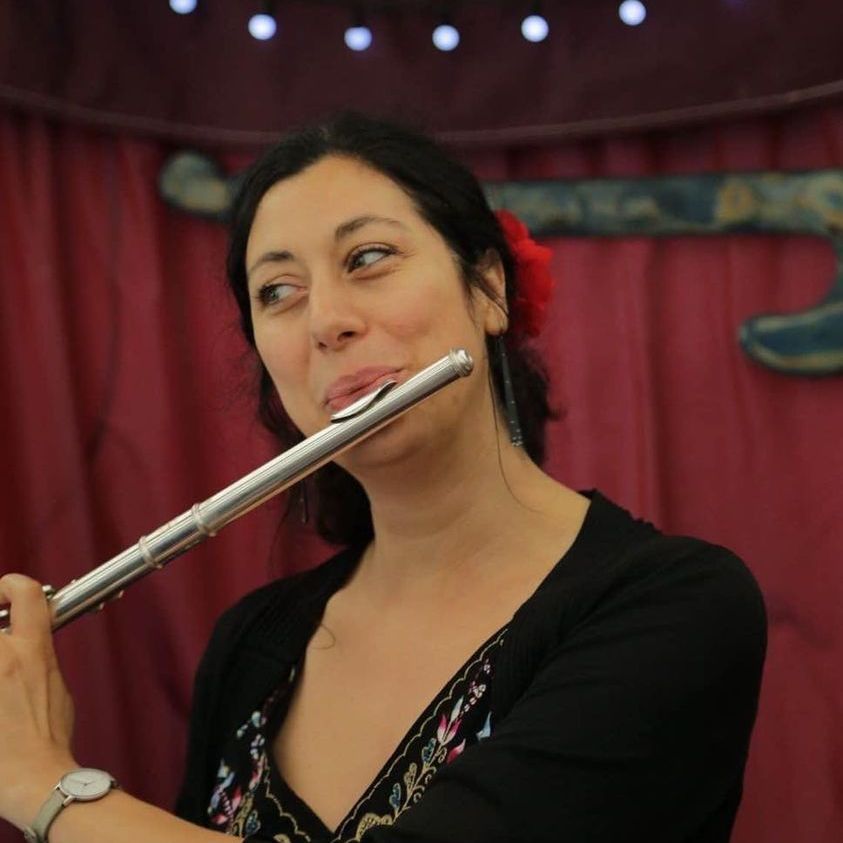 Aquara
Flute
Aquara grew up immersed in the rich culture of Balkan music, songs and dancing throughout her childhood with her Greek Cypriot heritage. These early roots have played an important part in shaping her musical path.
A multi instrumentalist specialising in Medieval, Baroque and Renaissance music on harp, recorders and flute, Aquara has over 20 years experience of performing at weddings and functions. Aquara first became fascinated by the beauty of Sephardi and Klezmer styles when studying for her degree in music, researching and writing a dissertation on the development of Jewish Music, instrumentation and techniques while learning some of the traditional Yiddish repertoire.
Alongside performing as a soloist and in various ensembles alongside Hazaar, Aquara is head of a dynamic music department at a secondary school in Devon where she spends her days nurturing the next generation of musicians. She also cooks a mean mezze!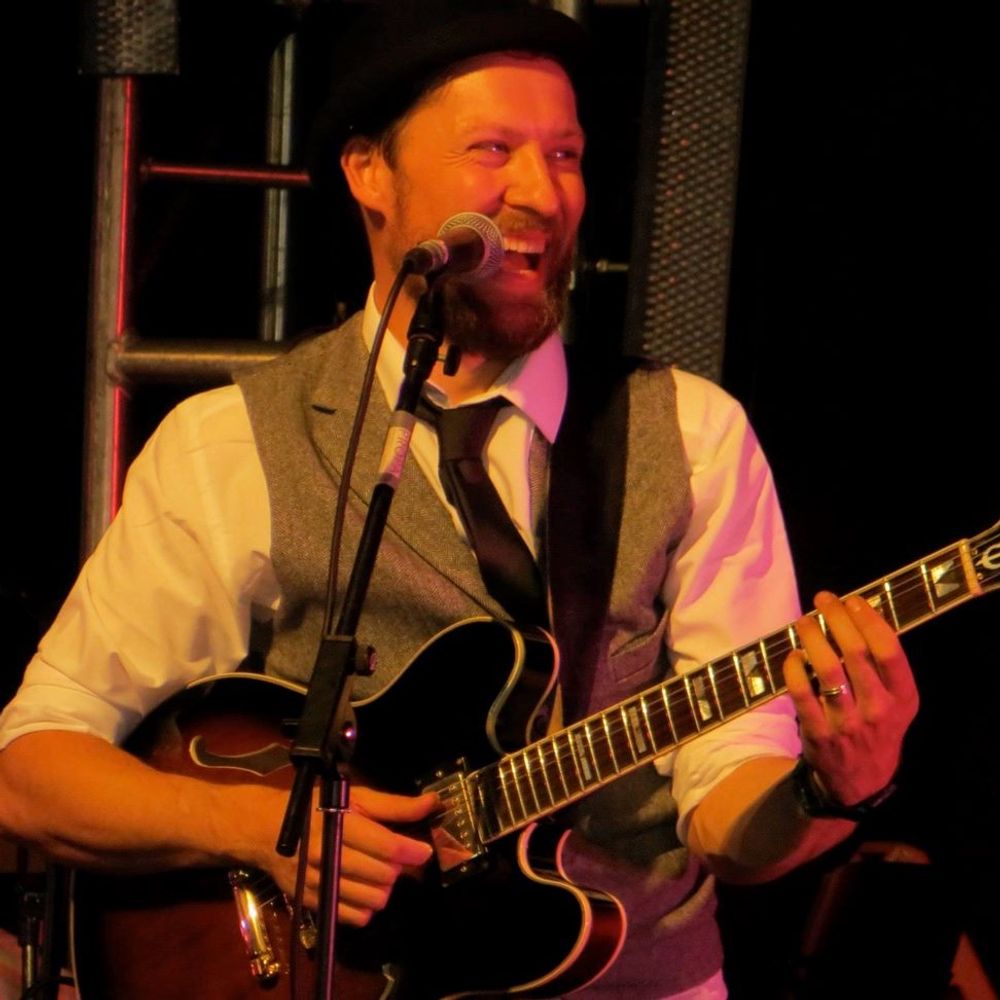 Rupert
Guitar & Vocals
Guitar player, tutor, and general Music Educationalist (is that even a word?!)
Rupes lives in the beauty of Dartmoor National Park and has spent his working life in music education. When not strutting his stuff with Hazaar! and other ensembles he has been known to teach guitar privately, with schools, music services, colleges, universities and online since graduating from Bathspa in 2003. Latest estimates are that he has delivered over 50,000 guitar lessons! He also works with AMSonline.uk, one of the UK's only online providers of BA and MMus level music qualifications.
Rupes runs a YouTube channel and Patreon page for online students.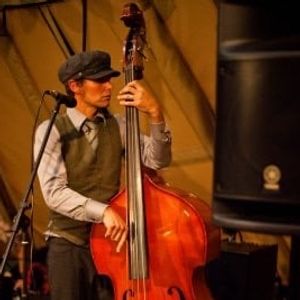 Jamie
Double bass & Vocals
Like Poseidon emerging from the waves, Jamie can often be found emerging from Hazaar gigs in a cloud of salty spray, drenched in his own sweat. The self proclaimed orchestra of the band, he provides not only the bass, the foundations for Hazaar's musical fusion, but since purchasing his own microphone and insisting on turning up to gigs with it he has also provided backing vocals, often being heard with a loud HOY! in the background of Hazaar's livelier numbers.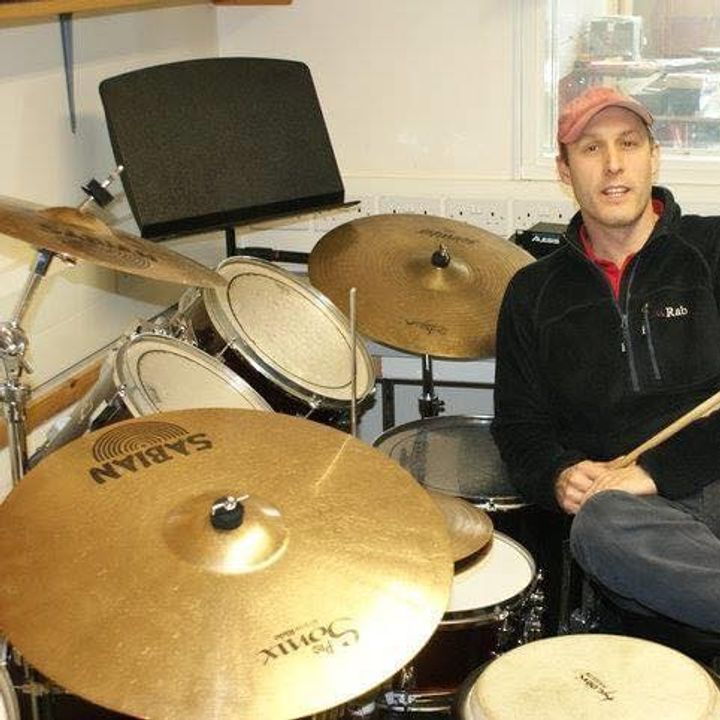 Ben
Drum kit & Percussion
Ben has played professionally in both Europe and the Americas, working all over North and Central America as a studio session drummer, and has written radio jingles for Mexican and Canadian radio.
Ben continues to play in a variety of ensembles in addition to Hazaar, from Latin and Funk through to experimental Jazz. He has been teaching drums and percussion since 1995.